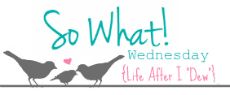 This week I'm saying so what too an linking up with Life After I "Dew"..
So what if I did nothing today but play with my kids and did nothing on my to-do list.
So what if I didn't cook my husband a Valentines dinner/desert until tonight.
So what if I let my kids watch Rio twice today even though they weren't watching it.
So what if I debated on not getting dressed. But Chelsi had both her PT & OT came today.
So what if I called my Mom today not once but twice crying. She is my Mother.
So what if I made two different dinners tonight as long as my family was happy.
So what if I plan to go to bed as soon as my kids do tonight.. :)
So what if I think Rio is the best movie like ever. OKay maybe not ever but darn near it.
So what are your "so what's"?
Oh and here is my wordless Wednesday picture.. This was taken Saturday evening.